DJ Brainchild & Phonte – Gordon Gartrell Podcast Episode #9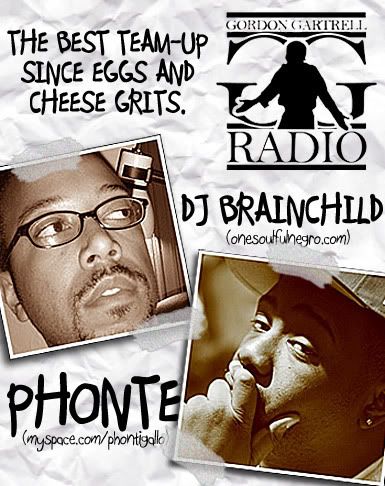 All the photos I've been using over and over were getting kinda stale so I whipped up the little e-poster you see above.  Feel free to use the hell out of it.  I recycled an old flyer for a party that Brainchild and Phonte did in Brooklyn following a Little Brother show.  The "cheese eggs & grits" slogan might need some work though.  Anyway, it's Wednesday and episode #9 of Gordon Gartrell Radio is upon us.
It has been labeled The Birth Control Edition and the description goes a little somethin' like this:  In this week's edition, Phonte discusses the trials and tribulations of parenthood and explains why you really don't wanna know how many sexual partners your s/o has had. 
This one should be interesting.  Link after the tracklist.  Enjoy.
Pete Rock – "Don't Be Mad"
Sleepy's Theme – "Choked Out Saturday Night"
Outkast – "Elevators (Me & You)"
Digital Underground – "Oregano Flow" (Gumbo Soup Mix)
Be Rezell – "Blowed Away"
Timbaland & Magoo – "Written Rhymes"
Jodeci – "Can We Flo?"
Brentford All-Stars – "Greedy G"
Alan Hawkshaw – "Mile High Swinger"
Sly & The Family Stone – "Positive"
The Rimshots – "Harvey Wallbanger"
The JB's – "Hot Pants Roads"
Maceo & The Macks – "Cross the Track (We Better Go Back)"
Kool & The Gang – "Funky Stuff"
Illa J – "We Here"
Coultrain – "Green"
Hueston Independent Spit District – "No More"
Owusu & Hannibal – "Delirium (Up Hygh remix)"
DJ Quik – "Down Down Down"
Shonie – "Come & Get It"
Platonic – "877″
Theo Parrish – "The Rink"
Samon Kawamura – "You Are the Only One"
The Randy Watson Experience – "Knocking At Your Door"
The Foreign Exchange – "Daykeeper"
DOWNLOAD | DJ Brainchild & Phonte – Gordon Gartrell Podcast Episode #9
---
COMMENTS / ONE COMMENT
SPEAK / ADD YOUR COMMENT
Comments are moderated.